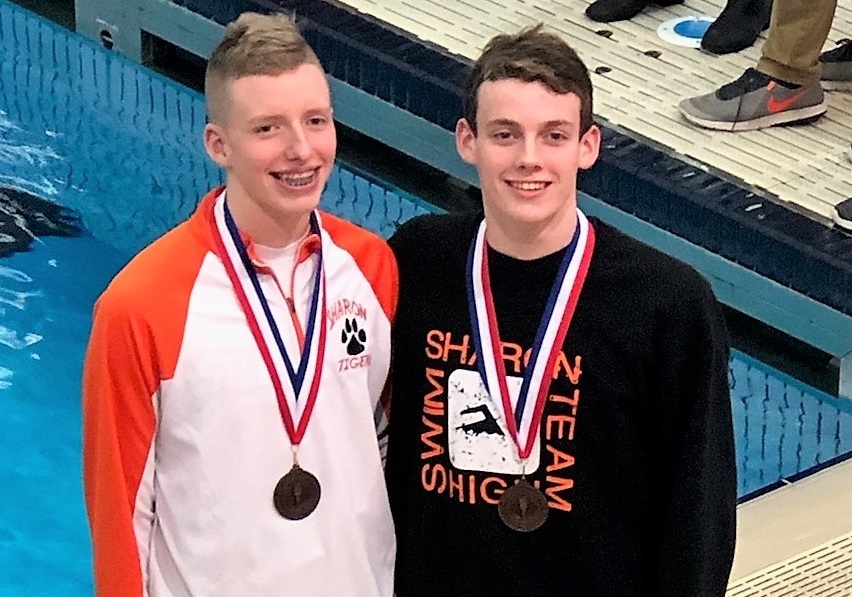 Tiger Swimmers Make A Splash at D10 Championships!
Michael Calla
Tuesday, March 05, 2019
The Sharon Tigers had an impressive showing at the District 10 Swimming Championships held at the Spire Academy in Geneva, OH this past weekend. For the girls, the 200 Free Relay (Faith McSherry, Marina Tomasello, Kate Levitt, and Ava McLaughlin) posted a time of 1:50.06, their personal best for the season. In individual events, Tomasello swam the 100 Fly in 1:05.29 and the 200 free in 2:07.62, which were personal bests. Levitt swam the 200 Free in 2:01.13 and the 100 Free in 55.58, both of which were personal bests for her. McLaughlin swam the 200IM in 2:33.53 and the 100 Back in 1:08.69, a personal best for her, as well.
For the boys, the 200 Medley Relay (Zach Cattron, Jake Cattron, Nolan Songer, and Ty Chartraw) posted a time of 1:46.95, breaking the previous school record of 1:48.7. Likewise, the same swimmers swam the 200 Free Relay in 1:34.39, shattering the previous school record of 1:37.8. In individual events, Jake Cattron swam the 200IM and the 100 Breast. In the 100 Breast, he posted a time of 1:10.60, a new personal best for him. Zach Cattron swam the 100 Free in 50.27, which was not only a personal best time, but it also garnered him a 5th place podium finish. Cattron also swam the 100 Back, with a time of 57.46, thereby shattering the previous high school record. Lastly, Songer swam the 100 Fly in 55.10, a personal best and a new school record. He also swam the 200IM, in which he posted a time of 2:03.26, also a personal best and new school record. His time garnered him a 4th place podium finish and a trip to the PIAA State Championships at Bucknell University next week.