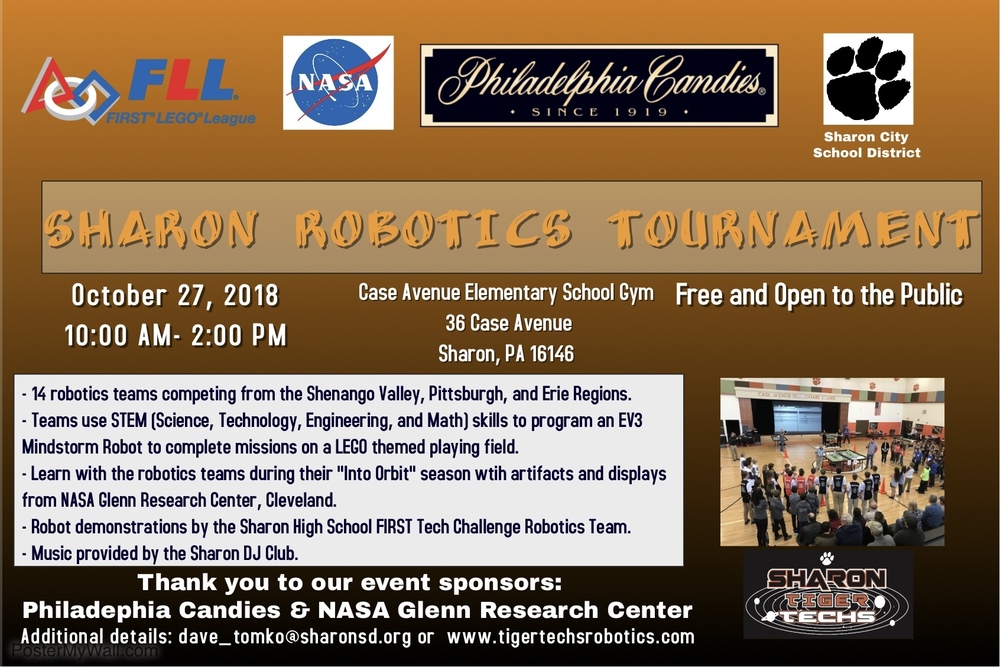 Sharon FLL Robotics Tournament
Webmaster
Sunday, October 21, 2018
Sharon to Host 2ndAnnual Regional Robotics Competition
The Sharon City School District will be hosting their second annual robotics competition in the school district on Saturday, October 27, 2018 in the gymnasium of Case Avenue Elementary School. The tournament is part of the FIRST LEGO League program that stands "For Inspiration and Recognition of Science and Technology."
Sharon will welcome teams from across the Pittsburgh/Erie region, including its very own Tiger Tech Robotics teams. In all, approximately 14 teams are expected to participate in the competitive tournament that will have awards for first through third place teams. The theme for the 2018-2019 season is "Into Orbit". Teams' design, build, and program their EV3 Mindstorm robots to run automously during three rounds of competition. The teams participating have the goal to complete up to 16 missions on a thematic playing field during a two-and-a-half-minute match. The mission models are all built out of LEGO's and relate to space. Missions include delivering payloads, rescuing an astronaut on the field, and launching a space vehicle. The teams that can score the most points during three rounds of competition, will be the top teams of the tournament. The tournament will start at 10:30 AM and will conclude around 1:30 PM. NASA Glenn Research Center from Cleveland Ohio will have a display on several space exhibits including a space suit, model rockets, space history banners, and several interactive exhibits. There is no charge for admission and visitors are welcome to view the NASA displays and cheer on the teams.
Following the tournament, participating teams will travel to Philadelphia Candies in Hermitage to tour their chocolate factory. While at the candy store, teams will take a guided tour and learn the production process of making chocolate. The partnership with Philadelpia Candies has been a vital component to attract Pittsburgh/Erie area teams to the area by demonstrating the importance of the Shenango Valley in the business industry.
The Sharon tournament is part of a series of robotics tournaments that lead to a regional robotics tournament in Pittsburgh and Erie. Teams will use the tournament at Sharon to prepare for the Western Pennsylvania Championship at Sewickley Academy in Pittsburgh or the Northwestern Championship at Penn State Behrend in Erie. The top teams at the Pittsburgh and Erie championships are then able to move on to the national/international level.